Déjà vü
YO!
After 3 take offs & landings (and a sleepless night in Murcia), Mederic & I arrived safely in Tokyo. Just on time to take a shower, buy some underwear at Uniqlo…30 minutes later we were already carried to various TV stations to do itws & acoustic sessions…Yes!
Then for 2 days from 10 am to 9 pm we promoted the album, which was quite exhausting yet great. We're entering a new phase for Activity Center. A lot memories came back to us.
(I want to thank our fans for giving us all these wonderful presents)
Our last nite in Tokyo was totally crazy, we had our traditional yakiniku dinner and then we went to a bar at random, then everything went fast. We enjoyed a few drinks, then we came behind the DJ booth and started to spin records (it was more of a hard rock place, so it was quite challenging to find records that we liked, but we managed to find a few), then somebody took of his shirt (I guess it was me) and we all danced bare chested to One More Time by Daft Punk (which we played 4 times in a row). Then we went back to our rooms, set up a wake up call, which we didn't hear, thankfully Mr Bueno, from our label, called us up in our rooms several times, we hastily packed up our cases (no time for a shower, which was a shame as I ran my hand through my hair only to find out -and remember- that it was sticky from the Coke battle that the bartender had started the night before)
A few hours later, Med & I ( the promo team for this album) were on our way to Brussels. From an album to another, the questions don't vary that much, we still had to go through the usual "Why do you sing in English?" and "Big in Japan" questions…we should add a FAQ sheet to our bio, so we could focus on other things. Apart from that ( I guess Ozzy gets always asked about the bat incident) It was still interesting to get a feedback from journalists talking about "T80 coming back to their roots".
The day after, we got together with the rest of the band and played a show in Chateau Gontier (as in Médéric) which went great. The audience's response was very warm, they danced and cheered to songs they had never heard before (and I'm not only talking about the new ones!). So it was cool.
I'm writing this post from the live venues "Le Normandy" in Saint Lo where we have been practising our songs for 4 days. More soon!
Besos
このお方も本当にマメな方だと思います。。。
忙しくても 見習わなきゃいけないな私;
Activity Centerが発売になってCATVでも特集が組まれてます。
MTVは終わっちゃいましたが
SpaceShowerTVで 明日再放送でZOOM INT'L 25:30~26:00

な、な、なんと"ALL AROUND"のPVもながれました!!
いやー実は先日放送された時 MTVでも"China Town"までしか流れなかったので
DVDにもとらず、しかもオンタイムで見てて・・・AXE RIVERBOYが流れておしまいかぁ
と 油断してたら流れてきたんですよ(><)"ALL AROUND"がぁぁぁ
きちんとオンエアリストチェックしとけば良かったです・・・
なので 明日はM-ONのサマソニは見ません てゆーより見れません(;;)
TAHITIとります(バカ)
M-ONは9月22日Artist File International 25:30~26:00
なのですが・・・オンエアリストを見たら)"ALL AROUND"は
入っていませんでした(残念)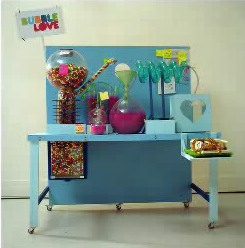 Love is all around you♪